UN Global Compact Network UK's 'Social Mobility: Improving recruitment and boosting inclusion' webinar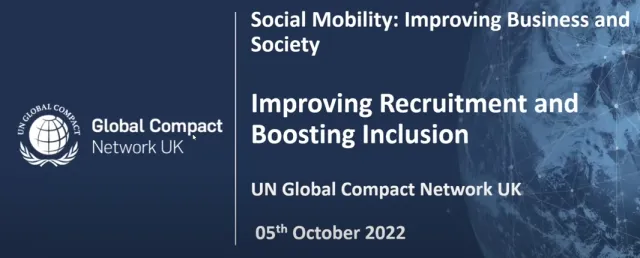 Event date: 05/10/2022
Event time: 2pm-3:30pm
Location: Online
The Social Mobility Commission are happy to support the promotion of 'Social Mobility: Improving Business and Society' webinar series, organised by the UN Global Compact Network UK.
The webinar series will explore social mobility and how businesses can effectively address socio-economic inequality and reap business benefits from doing so.
John Craven, Head of Social Mobility Commission, alongside others guests will be exploring how companies can establish clear social mobility strategies in the recruitment stage – including understanding the criteria and the different hiring models that leading companies use to hire their personnel to improve social mobility.
The event will support companies in designing and implementing strategies for improving social mobility and inclusion within their organisations.
Please note: this is an external event organised by the UN Global Compact Network UK.