The Whitehall & Industry Group's: 'A New Approach to Social Mobility' with John Craven, Director, Social Mobility Commission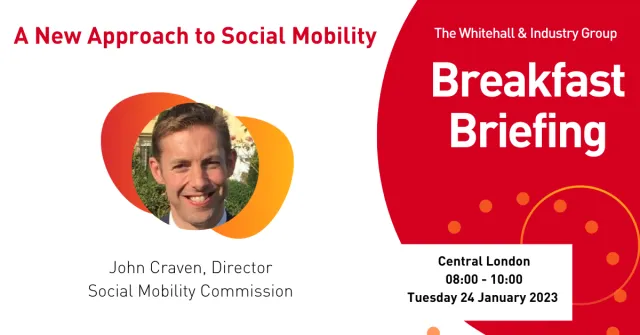 We are delighted that John Craven, Director of the Social Mobility Commission (SMC), will be speaking on Tuesday 24 January at the Whitehall & Industry Group's latest event, 'A New Approach to Social Mobility'.
Event date: 24/01/2023
Event time: 8:00-10:00am
Location: Central London and online
Following the release of the SMC's State of the Nation Report 2022, John will providing a deep dive onto the topic, explaining and discussing the ways in which the SMC is changing its approach to how social mobility is viewed.
By attending this event will be able to:
Discover how the SMC is promoting a broader and improved understanding of social mobility.
Discover how organisations from across the sectors can help to move the dial on inequality without increasing the gap between the top and bottom of the socio-economic ladder.
Pose your questions directly to John in a live audience Q&A.
This event is open to all Whitehall & Industry Group's members. You can go to their website to find out if your organisation is a WIG member and to register for the event. If you or your organisation are not currently a member, you can apply to attend the event through their website.
The in-person event will be held in central London. The exact address will be confirmed upon booking.
Watch the recording below.