The Festival of Education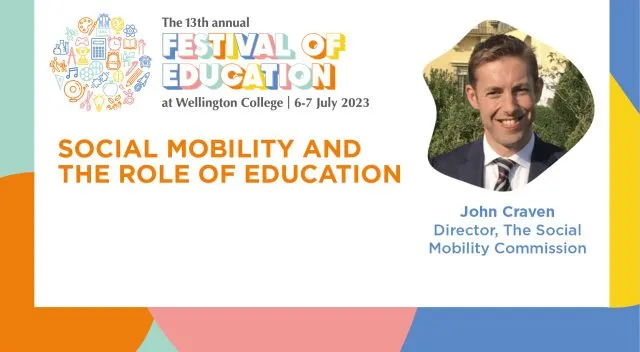 John Craven, Director of the Social Mobility Commission, will be speaking at the 13th annual Festival of Education.
Event date: 06/07/2023
Event time: 9.30am-4.45pm
Location: Wellington College, Duke's Ride, Crowthorne RG45 7PU
The Festival of Education will take place at Wellington College on 6 and 7 July 2023. It will host over 300 leading speakers and over 5,500 attendees from the world of education.
It promises to deliver more than ever, defining and evolving the education debate to ensure attendees continue to lead, stimulate, discuss and showcase what is vital for all our futures.
At the heart of the Festival is an understanding that learning should be inspiring, engaging and fun. The Festival is no ordinary education conference. From challenging debates to expert orators, and from renowned headliners to unexpected new connections, the Festival of Education is an event where those who inspire find their own inspiration.
You can catch John on the second day of the Festival, as he discusses social mobility and the role of education.
You can find out more information on the official website.
Watch the highlights reel below.