Improving Social Mobility, Inclusion and Belonging in the Workplace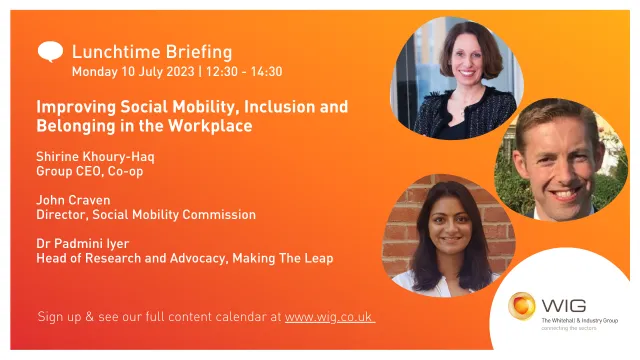 We are delighted that John Craven, Director of the Social Mobility Commission (SMC), will be speaking at the Whitehall & Industry Group's event, 'Improving Social Mobility, Inclusion and Belonging in the Workplace'.
Event date: 10/07/2023
Event time: 12.30pm-2.30pm
Location: Hybrid (online and in person)
John will be joining Shirine Khoury-Haq, Group CEO, Co-op and Dr Padmini Iyer, Head of Research and Advocacy, Making The Leap, for this special lunchtime briefing which will explore how employers can improve social mobility, inclusion and belonging, drawing on research especially commissioned by Co-op with their employees from lower socio-economic backgrounds.
Attendees will:
Hear exclusive research from Co-op and Making The Leap and discover how Co-op is actioning the findings
Understand the barriers to progression for colleagues from lower socio-economic background
Explore the value of greater socio-economic diversity within an organisation
This event is open to all Whitehall & Industry Group's (WIG) members. You can go to their website to find out if your organisation is a WIG member and to register for the event. If you or your organisation are not currently a member, you can apply to attend the event through their website (this will be for the online event only).
The in-person event will be held in central London. The exact address will be confirmed upon booking.